While we no longer work with porcelain ceramic we still do work with soft body ceramic.
We make custom switch plates from soft body or non-porcelain ceramic. In the photos below you can see how any glazing or printing is removed when we radius the edges. How much of an issue this is depends on how much the color of the body of the tile differs from the top surface finish.
For information on prices and ordering visit our Prices/Ordering page.
This photo shows the edges of various custom ceramic switch plates and how they usually look different compared to the faces.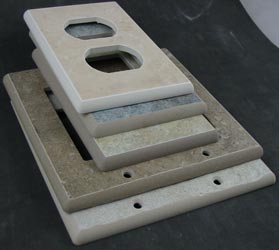 Crackle Glazed Tiles
Switch plates made from crackle glazed ceramic tiles may have some chipping around the cut-outs. How much of a problem this is depends on your ceramic. The photos below show the range of what can be expected.