Yes, we used Columbia Gorge Stoneworks. They were great to work with. I've included the link to their web site page describing the process they use. You can call or email them to ask questions - they were very responsive. We have a very active granite with a lot of color variation so we took the small pieces of left over granite we had and marked them to show what part of the stone we preferred to use. They suggest marking the back but we found it easier to draw outlets on some plastic transparencies and tape them on the front of the stone to show what we wanted to use.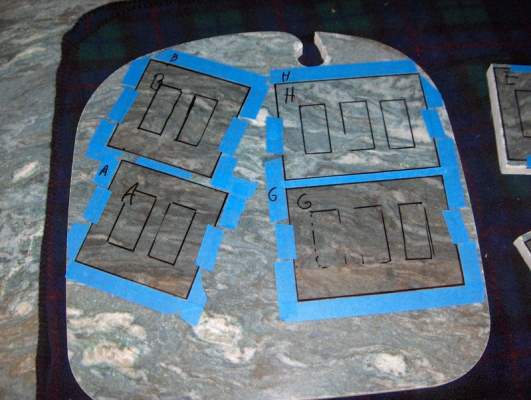 Of course, they can't guarantee to use the place you mark - they may find a flaw in that bit of stone or have a problem when they fabricate the plate but they will try. In our case, there was one plate where they couldn't use the piece we marked, but David did such a good job of choosing an alternate piece that I only know because he told me.
They use a router to thin down the stone and shape the back of the wall plate. Our stone was 2 cm but even that needs to be made much thinner for the wall plate. Here is the back side of one of our switch plates:
We had marked our requested positions with letters. You can see that David took the trouble to put the letter on the back of the finished plate. Since we had 8 wall plates, that was more convenient than trying to figure out which went where.
Here are a couple of pictures of the outlet covers in place: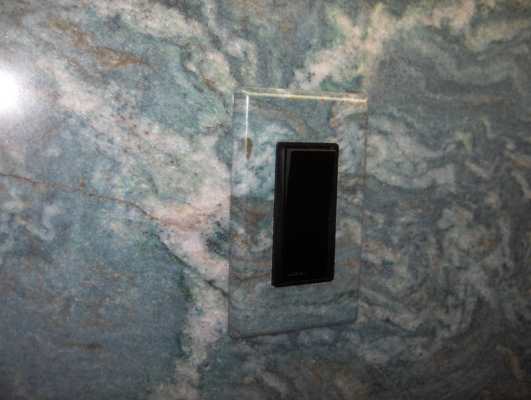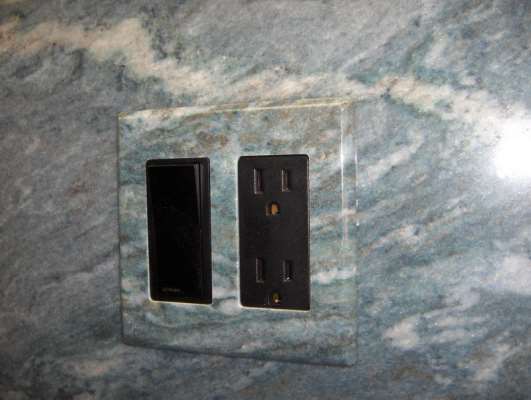 Hi Jamie:
Sorry I haven't written you earlier but I wanted to be able to send the attached pictures and we hadn't been to our cottage yet. The switch plates are now installed and exceed every possible expectation!! The craftsmanship is exceptional and doing business with you guys has been a real pleasure. By the way, the magnets are wonderful and really the only way to go. We are moving along with the rest of the kitchen and will be installing the tile backsplash soon. Once it's up and we have a good match I'll be ordering for that part of the room. I would be happy to recommend you to everyone I meet!!
Thanks again and I'll be contacting you soon with the next order!
Mary
P. S. Check out the pattern match on the first picture--It's amazing.
Jamie

What can I say. They are absolutely gorgeous. Even my husband was amazed. My electrician was here today and installed the puck lights under the cabinets. As soon as he was done, he couldn't wait to put on the switch plates and I never asked him to. He was really impressed.

Thanks again for the wonderful job you did on my switch plates. I'm so glad I contacted you and I'm ecstatic about your product. Tell your husband I think he's an artist! If you ever need a reference, you can certainly use my name.

Janet



Hi Jamie,
Thank you, thank you, thank you, I love the plates!!!!!  They arrived this morning and are installed.

Pictures are attached.  If there are any problems with the attachments or you want something more, let me know.

You may quote me - These plates are the finishing touch to my kitchen.   Only the magnetic plates should be considered.  The look is sleek and sophisticated and, of course, the possibility of cracking the plate when screwing them on is eliminated.

Thank you for communicating with me to be sure that all was perfect before the work began so that errors were avoided.  I particularly appreciate the care you took in selecting pieces of stone that coordinate beautifully with the stone on my backsplashes.   I know the stone selection for the plates would have been easier for you if I had had the plates made when the stone was installed two years ago, but you did a wonderful job working just with pictures.

Thank you again - for being fine artisans, for being professional and for being so nice.  My initial concerns about dealing through the internet and telephone were for naught.  It has been a pleasurable experience from beginning to end.

Kay


Just a note, Kay's fabricator supplied the stone and Kay emailed photos of her backsplash so we could pick the best matches.



Hi Jamie and David,
We received the switchplates today. WOW! They are incredible. It's amazing how you did this and they match up perfectly with the veining in the granite. I will recommend you to everyone we know who is looking to remodel their kitchen with granite. I can't thank you enough for making the process easy. Thank you also for your professionalism and attention to detail. It was a real pleasure doing business with you. Take care. 
Sincerely,

Ray



David,
I just wanted to tell you that my switchplates arrived and I installed them over the weekend. I want to compliment you on the truly extraordinary job you have done. The finished product you have created are far beyond my expectations. I appreciate your attention to detail. Your commitment to your work is reflected in the "works of art" you have crafted. As the saying goes "the devil is in the details" and being able to finish off the soapstone countertops and backsplashes with the switchplates from Columbia Gorge Stoneworks is evidence of this. Again, thanks for a job well done!

Dennis



David,
The mineral oil found in a medicine cabinet is exactly what is used on our soapstone. The polishing you did was even better than what was done by the counter installation crew here. Once I oiled the switchplates you made they matched the installed stone perfectly. Actually to perfectly because they blend so well you can not fully appreciate the beautiful craftsmanship. You are welcome to use my e-mail on your Testimonials page. I am in the process of completing a home I built for myself and have tried to maintain a very high standard from the craftsman that have worked on the job and I will say again that the work you did rates up there with the best. Not only did you do what you said you would you did it in a timely manner. I will certainly recommend you. Good luck.

Dennis



Happy Wednesday!
We received your switch plates today and were completely blown away. It's incredible the quality and precision, we are just very pleased. We are hoping to have them installed by the end of the week. Thank you so very much!
We can't wait to sell more switch plates, and already have proposed them for another job. We are curious as to whether or not you can fabricate them from a porcelain through tile? This would be for a separate job.
Again, thank you so much, and we greatly look forward to working with you in the future!
Sincerely,

Sherry
Interior Viewpoint



Hi David-
I got my switchplates today and they are ABSOLUTELY BEAUTIFUL! Even more so than I imagined. Thank you for doing such an excellent job. I wish I needed more!
Thanks again,


Alison



The switchplates arrived today and were installed within a half-hour. They are stunning--more than beautiful. Thank you so much for providing this service.

Bernice



David,
The switch plates arrived and I installed them. They look great! Thanks for getting them done so quickly, and great workmanship.
Thanks again for everything!

Mike



David:
Thank you so much for the beautiful switchplates. We received them today and have installed them and they do look just wonderful. The perfect final touch for our new kitchen.
Thank you so much. You do fabulous work!!

 Carole



Hi David!
The switchplates arrived yesterday in perfect condition, and are wonderful.
Thank you for your fine work on them. They are quite an addition to the
room!

Karen



Thank you for doing such an incredible job. Not many people take that much pride in their work anymore. The switch plates look great in our kitchen. If I need any more I already know where to go.

Kevin
Just wanted to thank you so very much. The honey onyx switch plates are beautiful and are the perfect finishing touch to our new kitchen update. You guys did a terrific job and were great to work with.
Best regards,
Traci



ABSOLUTELY BEAUTIFUL. Thank you. I gave your website to the granite people here because other people also could not find the switchplate covers to match. Well worth the money!

Monika



Hi David,
Forgive me for not responding earlier. I received the switchplates in great shape. They are wonderful; much better than what I had. Thank you very much.

Pat



Hi Jamie -
We received the switchplates and they look great.
It will be a few weeks before they are installed - I can't wait!
Thanks

Robin



Good morning,
I forgot to tell you how nice my plates are. The phone switch was a bit of a pain and I lost service to my back bedrooms due to looping but Sprint came and fixed it. They look great and fit wonderfully. I should have gotten all of them from you. I have already highly recommended you to others.
Thanks,

Elissa



Dear David and Jaime:
I keep forgetting to write to let you know that we got the switchplates and they're absolutely beautiful! The kitchen looks gorgeous and the switchplates were really the perfect finishing touch. Thank you so much for your great work and professionalism (timely responses to e-mails, open and honest information available, good web site, excellent craftsmanship and attention to detail, product delivered when promised). You were great to work with!

Thanks again and best regards,
Donna



Hi!
Thank you so much for the absolutely quality job you did with the switch and outlet plates for my kitchen! Well done, and I've received many compliments already. I'll be sure to pass your company's web site along to others interested in your services. Not only is your workmanship of high quality, but as important is your sincere concern to help the customer understand the process to the ultimate installation of the product. Thanks, again, for everything.

Take care,
Kathleen
Hi Jamie,
The package arrived yesterday, and I put the plates up this morning. They look terrific.
Many thanks again.
Steve
Thanks Jamie! I have to tell you that I really appreciate you all and the work that you do. It's hard anymore to get good customer service anywhere and you all have gone above and beyond what anyone expects anymore. It's so nice to find that it still exist and I want to thank you for that. You are just about the nicest person I have talked to on the phone in a very long time and I really enjoyed it.
I hope you all have a very Merry Christmas and a Fantastic and Prosperous New Year!
Thanks for everything!
Cathie
Jamie,
Received plates today, Very Nice job. Thank you for your help and time with my order. Glad I went with the magnets looks and works great.
Thanks again,
Tony