An alternative method of installing your custom stone switch plates is to tile them into your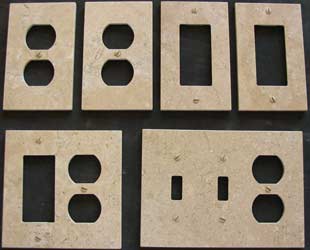 backsplash. This gives a very clean look but it does take more work and planning than conventional installation methods. Since the switchplates are 1/4" thick and your tiles are 3/8" thick plus the setting compound the area under the switchplates needs to be built up. This can be done several ways but I believe using setting compound would be the best and easiest. It is best if you can install your switch plates and then tile around them. You can either tile tight to the switch plates or if you grout around them then wrap the edges with tape first. After the grout cures remove the switch plates, remove the tape, and install your switch plates.
The edges of tiled-in switch plates are left saw cut. The finished sizes are 1/8" per side larger than the switch plates that have radiused edges. The finished sizes of tiled-in switchplates listed below are +/- 1/16".
1- Gang: 4-5/8" x 2-7/8"
2- Gang: 4-5/8" x 4-11/16"
3- Gang: 4-5/8" x 6-1/2"
4- Gang: 4-5/8" x 8-5/16"
5- Gang: 4-5/8" x 10-1/8"
6- Gang: 4-5/8" x 11-15/16"
This customer chose to caulk their Durango travertine switch plate covers in place to avoid using screws. If and when the switch plate needs to be removed they can cut around it with a utility knife to remove it.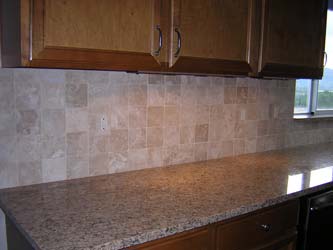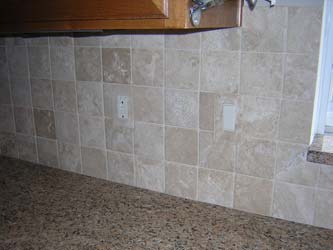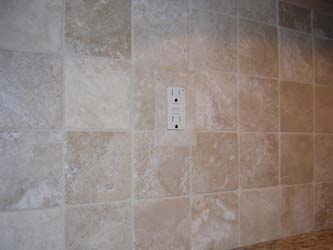 This is a 3x6 inch subway tile that has also been tiled in without screws. Below is what our customer had to say about the installation.
As perhaps you could tell by the photos that I just e-mailed you, we decided to go ahead and grout in the switchplate. I could not think of a single time that I have ever removed a switchplate unless it was to paint - and since it is a tile wall I obviously would not be painting. In the very rare occurrence of an electrical problem, the tile person said it was simple to cut out the grout and then re grout.
The whole procedure went quite smoothly since it was the actual full tile used as the switchplate. The contractor left holes with the wires pulled out where I wanted the outlets, the tile person simply left out the tile where the wires were pulled out, and the electrician just put in the outlet (although he had to be careful about lining it up) in the tile space. The tile person stopped over the next day and quickly grouted it in.

Once again, thank you!
Glenda
Good evening Jamie,
I wanted to pass along a few pictures of our finished kitchen. The tiled in outlet covers REALLY add that extra detail that takes people by surprise. (Including our subs that worked on the project. None of them have seen that in this area.)
I plan on providing your name and website information to some of the contractors that worked on our project. They were very impressed with your product! And, it goes without says that we were too!
Thank you!
Robyn