This page is to answer some questions as to what materials we can make switchplates from. The main problems that we run into are flatness and glazed or finished surfaces. Since our stone switch covers are 1/4 inch thick the stone needs to be relatively flat for the countersunk holes and radiused edges to look right. A very uneven surface can also be a problem for how the switch or receptacle fits the cover plate. The most variation is around 1/16" from a plane over the area of the switchplate with a little more at the corners. Flatness issues are usually with Slate.
Although we have no difficulty making switchplates from glazed tiles or ones that have a colored finish, when we radius the edges they will not have the same color as the face.
For more information on custom ceramic switch plates.
We no longer work with this material.
This photo is of two blanks of full body porcelain ceramic. The one on the left is the back of the tile and the one on the right is the front side. As you can see the color goes all the way through the tile.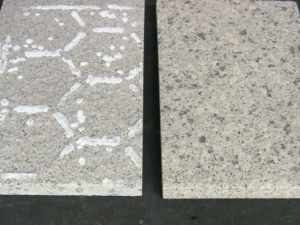 The switch plate on the left is from a tile with a printed finish. Since the color of the base material is very similar to the face it worked out. The switch plate on the right has the same color throughout the body of the tile.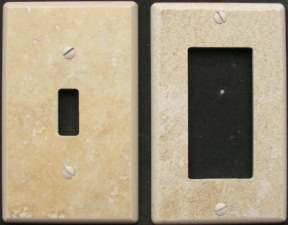 We have tried to make glass tile switchplates but there are too many problems with this material to consider it possible. Not only is the material difficult to work with all the work we do to the backside is visible, including the fixture and electrical box that it covers.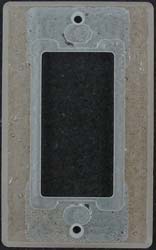 We no longer work with this material.
Here is a better photo of what happens when we radius the edges of glazed tiles. If the color of the base material compliments the face of the tile then this type of tile works fine to make switchplates from.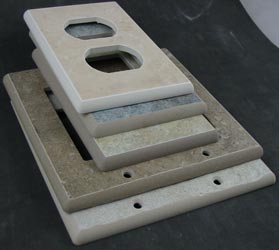 This switchplate is made from Honey
Onyx, which is difficult to work with.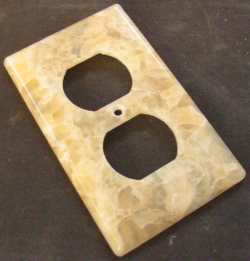 We no longer work with this material.
This is one of the more interesting stones we have made switch plates from.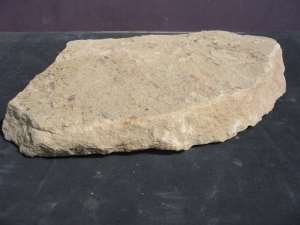 We no longer work with this material.
This is some of the strangest shaped stone we have used for switch plates.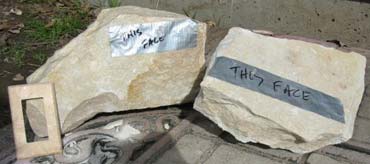 Here are the switchplates after we were finished. Because we needed a flat surface to start with we were only able to get one plate out of each rock.