Travertine switch plates and outlet plate covers make a beautiful finishing touch to any travertine back splash.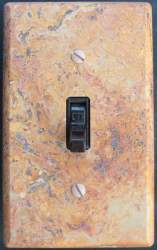 When you send us your travertine, please choose tiles with the least amount of voids or filled areas.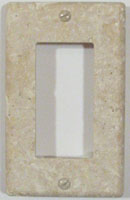 If you have filled your stone yourself then it is best to send us your stone unfilled, and then fill your switch plates after you get them back. This will ensure that any voids that appear when we radius the edges are filled. It is also best not to seal your stone before sending it to us but to wait until you get your switch plates back before sealing them. If your stone is pre-sealed then you will want to seal the radiused edges.
For information on prices and ordering visit our Prices/Ordering page.